jewels of real gold color...
Introduction
Beside my job as web designer I do some
gold
and silver jewelry making as a hobby just for fun and not as my business. These are made of
Sterling silver
or
gold alloys
, ranging from 14 to 22 carats. I make rings, bracelets, earrings, pendants, etc. on the user's specification. It is just grown from making jewelry for family and friends. The gold jewelry I make are usually made from high gold content, unlike the somewhat pale looking 14 or 18 carat gold commonly sold in most of Europe or North America. When the customer wants I can make it in the 'usual' 14 or 18 carat of course. As I have no shop or something like that, I can keep prices low and I sell a piece of jewelry of 22 carat gold for about half the price as a regular jeweler sells the same piece made of 14 carat gold.
Since recently I work with
Argentium silver
which has superior properties as compared to standard sterling silver.
I work on my computer desk beside which my jewelry workbench is. I buy the gold and silver metals just in their pure state for the quoted day prices, melt and alloy it myself and roll sheet or draw wire myself which saves a lot of costs as well. Somtimes the quality of finished findings, wire, sheet, etc, or the quantity I need enables me to buy pre-drawn wire, but there is less choice in it. In 2010 I got a new workshop with a fire-retardant fumehood which allows safe soldering, melting and working with chemicals such as pickle. In October 2014 purchased an extra rolling mill for rolling both sheet and wire which allows easier making of wires. I use the other rolling mill (which is for sheet only) for wider sheets up till 10cm wide.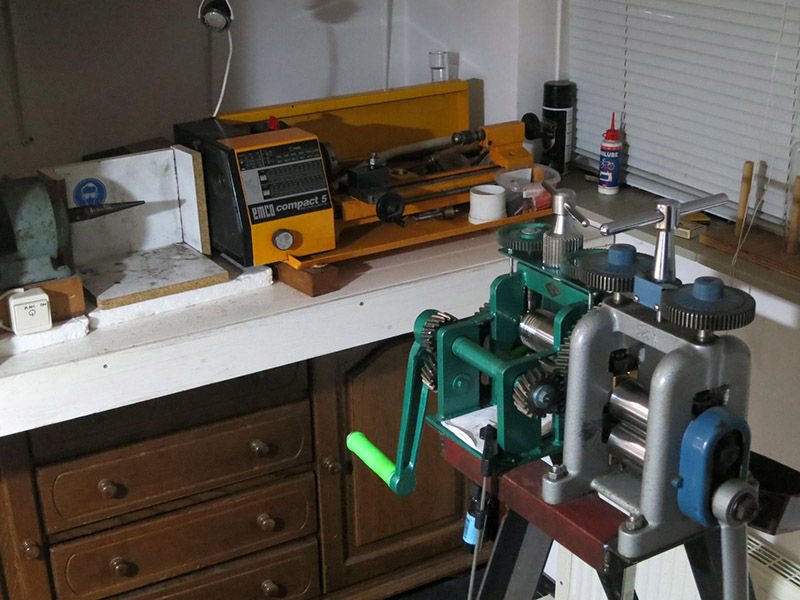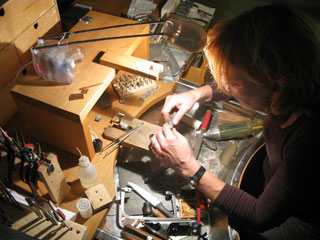 My name is Klaas and I live near Arnhem in the east of the Netherlands. The pictures on the other pages show smaller and larger pieces of jewelry made of gold or silver, sometimes with a precious stone.
On 2008 May 12 there was another Silversmith day in Schoonhoven (Netherlands). On this day I participated on a wire hammering contest and the result was suitable for a bracelet. I had to deliver back the silver to the organization, but back at home I melted silver scrap and poured it into a pin and hammered it again and finished it. The result is on the bracelet page on this site.
---
The prices are related to the current metal prices and further to the US dollar, which exchange rate is somewhat lowered compared to the Euro.
The jewelry can be tailor made to the customer's wishes. They can be checked and hallmarked by the Dutch Assay Office (Waarborg). The Dutch hallmarks are shown on this sheet (in Dutch).
Info can be obtained by clicking here to mail.
Dutch and German response welcome as well !